Moasure for Landscapers & Pavers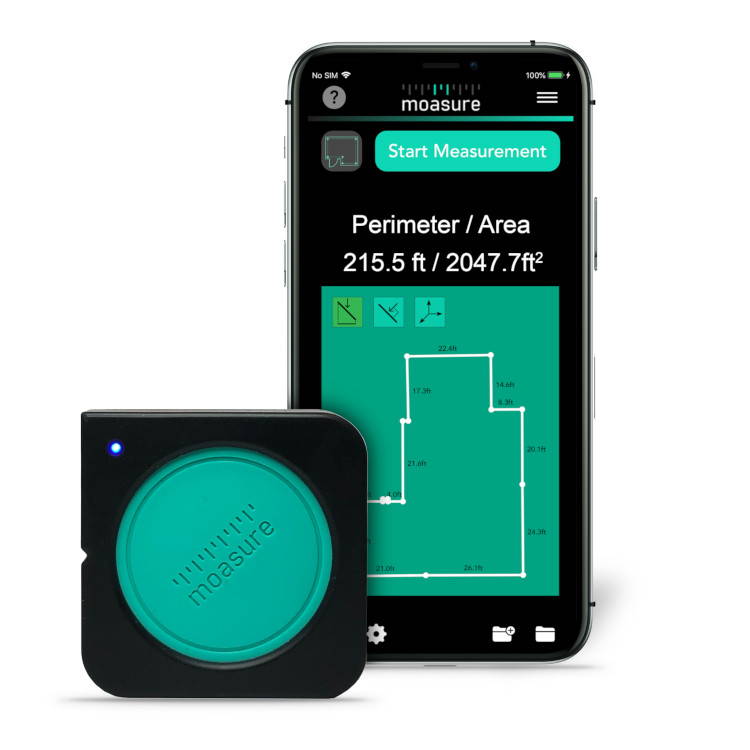 "The World's First Motion Based Measuring Tool"


A revolutionary new type of measuring tool using motion sensors that enables you to measure, just by moving.
Measure up & draw at the same time
Calculate the area of complex spaces
Export your drawings to CAD, PDF or PNG *
Save time measuring up and get more jobs done.
Save hours of time when measuring up and start measuring spaces of all size and shapes. Calculate the area, perimeter, elevation change and even export drawings as a PDF or straight to CAD.
Calculate the area of irregular spaces
Let Moasure ONE draw and calculate the area or perimeter of regular and irregular shapes.
Trace curves & free form shapes
Effortlessly "Trace" lawns and pool areas, or just measure curves.
Build CAD-Ready outlines of areas including elevation change
With the power of Moasure 3D, build CAD-ready outlines in the time it takes you to walk around the perimeter
Calculate changes in Gradient & Elevation
Moasure® ONE™ measures in 3 dimensions allowing you to measure changes in elevation; perfect for ramps, lawns & paving.
Calculate the gradient, rise & run or height difference between two points.
Capture 3D Co-ordinate data straight to CAD
Measure three dimensional spaces with ease
Simply collect 3 or more points along a curve, and Moasure ONE will calculate:


Circle:
Area, Circumference, Diameter, Radius
Arc/Segment:
Arc Length, Arc Angle, Segment Area, Chord Length, Arc Radius

"Moasure allows us to get much more accurate estimates, both for fertilization, weed control and for putting in mulch"

Ken Hyatt
Village Green Landscaping

"We save a lot of time measuring with Moasure. Most of my sales agents would take 20-30mins to measure out an area, with Moasure it takes 2-3mins"

Joshua Apodaca
Artificial Grass Masters

"Having the Moasure device has meant we're able to take measurements quickly on site and transfer them to CAD - it really speeds up the whole process"

Tom Bradley
Bradleys Surfacing Systems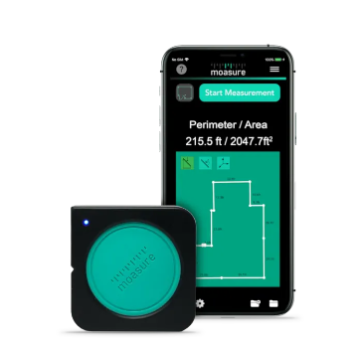 Motion Based Measuring Tool + Moasure App (iOS or Android)




Measure, Draw and Save Measurements



Measure areas, distance, angles, height difference, gradients, rise & run, thickness, circles, and arcs




Optional Upgrade: Enhance your Moasure ONE and export drawings


Export PDF, PNG, DXF & CSV files from Moasure ONE


30 Day Free Trial Included with Moasure ONE (No Commitment)
No Annual Commitment - Cancel/Restart Monthly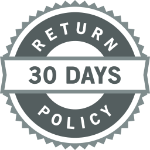 30 Day Money Back Guarantee

Order now and try Moasure ONE - If you would like to return, just get in touch within 30 days and return your Moasure ONE to us for a full refund.

Learn More
How accurate is Moasure?
+/- 0.5% for single dimension measurements, for example +/- ¾ inch for a 12ft length




+/- 2-3% for area and volume measurements, dependant upon shape, for example +/- 3 to 4.5 ft2 for a 150ft2 area
What measuring units can Moasure measure in?

As a digital measuring tool, you can set a range of Imperial or Metric measuring units in the app.
How can I try out Moasure ONE?
Moasure ONE is currently only available directly from our website. We offer a 30-Day Money Back Guarantee. Simply order the Moasure ONE online and in the unlikely event that you aren't completely satisfied, you can return it for a full refund.
What happens after the free trial of Moasure 3D?
You have the choice of signing up for a monthly subscription of the Moasure 3D Service. You will not be automatically subscribed.
Can I attach the Moasure ONE to a stick?
We're currently working on developing a bespoke stick for Moasure ONE, right now we don't recommend attaching Moasure to any extension poles. Learn more
Just ask here  Still not sure, stay in touch and subscribe to our email newsletter below