Moasure for Landscapers & Pavers
Save hours of time when measuring up and start measuring spaces of all size and shapes. Calculate the area, perimeter, elevation change and even export drawings as a PDF or straight to CAD.
Calculate the area of irregular spaces
Let Moasure ONE draw and calculate the area or perimeter of regular and irregular shapes with '2D Draw mode'
Build CAD-Ready outlines of areas including elevation change
With the power of Moasure 3D, build CAD-ready outlines in the time it takes your to walk around the perimeter
Meet Moasure ONE & Moasure 3D
Moasure ONE
Smart Motion-Based Measuring Tool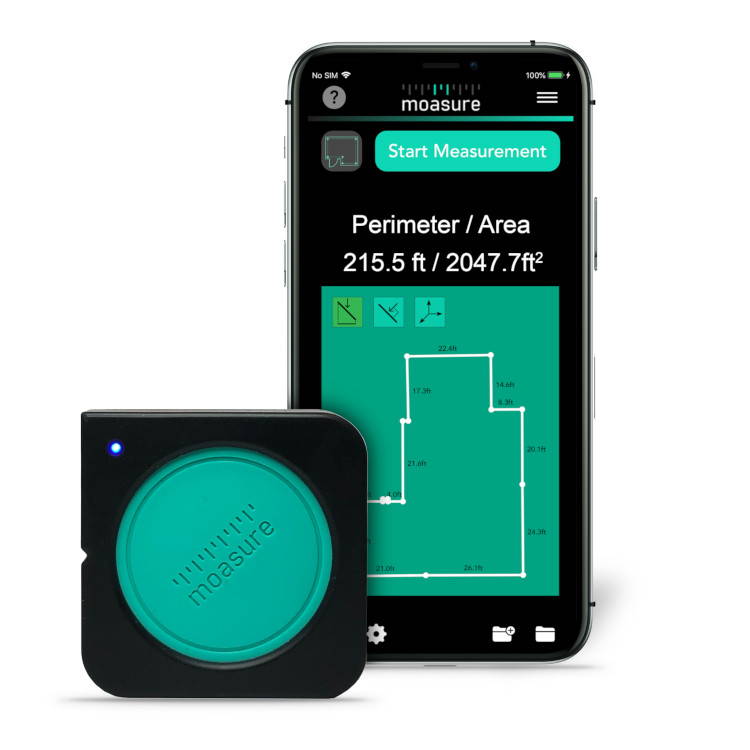 Moasure 3D
Upgrade your Moasure ONE Experience with Moasure 3D


Moasure 3D is an enhancement to Moasure ONE, allowing you to export your measurement drawings as a PDF, PNG, DXF or CSV.


Calculate changes in Gradient & Elevation
Moasure® ONE™ measures in 3 dimensions allowing you to measure changes in elevation; perfect for ramps, lawns & paving.
Calculate the gradient, rise & run or height difference between two points.
"Very useful and convenient tool to speed up my estimating process. I use it to measure area and length measurements, as well as slope and grade. One time the tool didn't connect to the app but the problem has not recurred after that. So far a good product experience."


Jared A - Terra Landscape and Design
28/09/2019
Capture 3D Co-ordinate data straight to CAD
Measure three dimensional spaces with ease
Simply collect 3 or more points along a curve, and Moasure ONE will calculate:


Circle:
Area, Circumference, Diameter, Radius
Arc/Segment:
Arc Length, Arc Angle, Segment Area, Chord Length, Arc Radius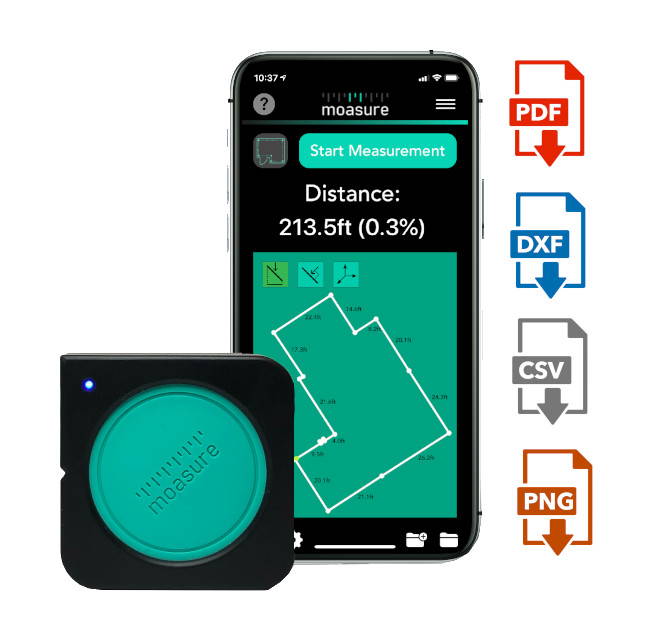 Measure and draw rooms and spaces


25 measuring modes including distance, angles, height difference, gradients, rise & run, thickness, circles, arcs, regular and irregular areas. - Learn More
---
Optional Upgrade: Save hours measuring up and drawing properties and spaces, inside and out


Export PDF, PNG, DXF and CSV files from Moasure ONE


30 Day Free Trial (No Commitment)
$9.99 per month
No obligation, cancel anytime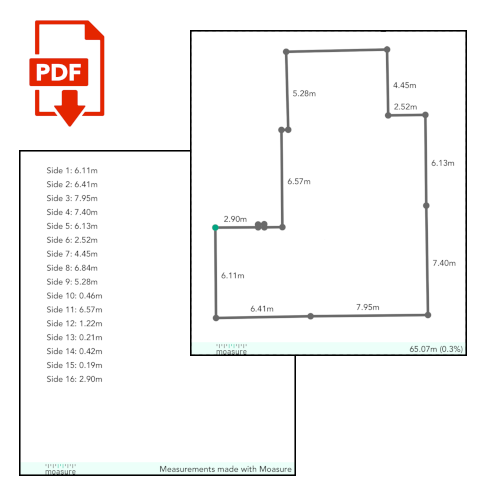 PDF files are created as two or more pages; the first page is the drawing including dimensions, the second page lists the dimension of each side.

Available in both 2D Draw and 3D Draw modes.

Download an example PDF
---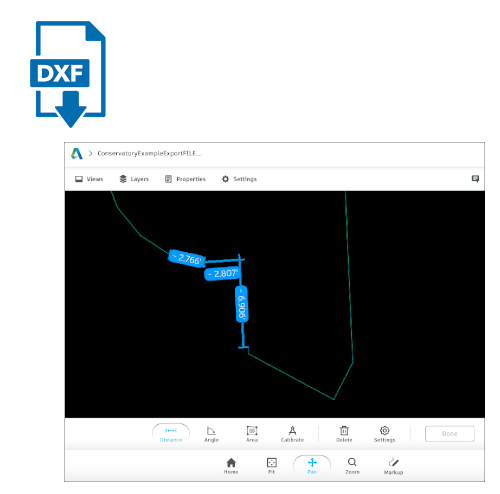 Export 2D or 3D DXF files, which can be opened in all popular CAD applications. e.g AutoCAD, SketchUp, Chief Architect etc.)

2D DXF is available in 2D Draw;
2D DXF and 3D DXF are available in 3D Draw.

Download an example DXF
---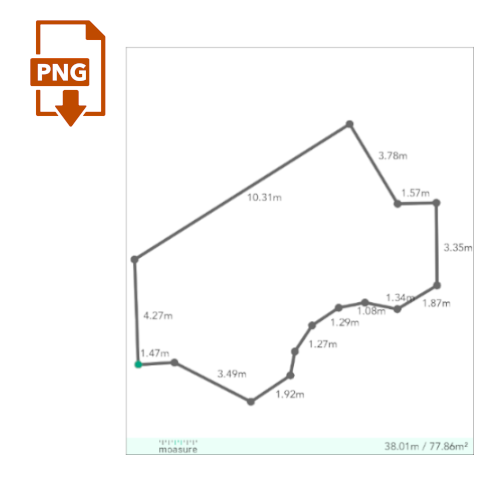 Export a PNG image file ready to share. The PNG file shows a sketch including dimensions, total perimeter and area*.
For detailed measurements, where the dimensions are overlapping, we would recommend using the PDF export option.

Download an example PNG

* Area is only shown when using 2D Draw mode
---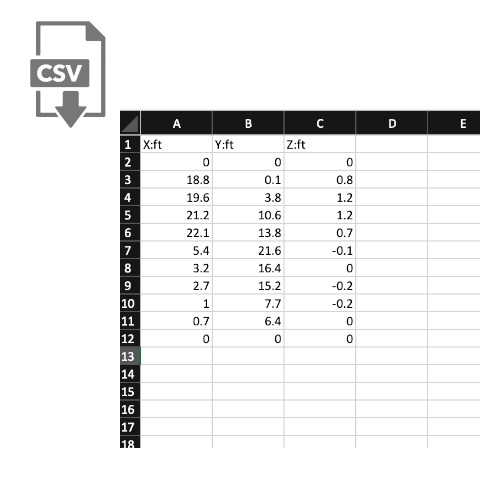 Export coordinate data as a CSV file. CSV files can be used for many CAD applications. The CSV file displays the X, Y and Z values.

Download an example CSV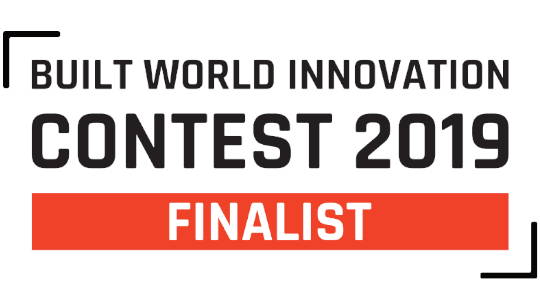 Proptech Finalists Moasure secures a place in the final 25
"22 Innovative Technology Startups To Watch"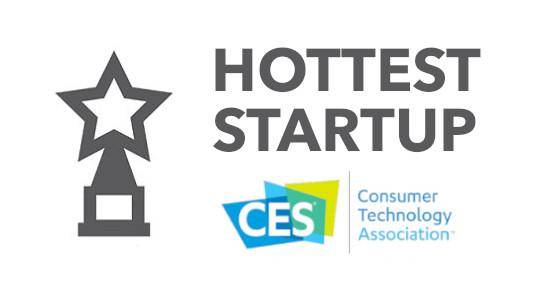 Moasure crowned the hottest startup at CES 2019
---
How accurate is Moasure?
99.5% for single dimension measurements, for example +/- ¾ inch for a 12ft length




97-98% for area and volume measurements, dependant upon shape, for example +/- 3 to 4.5 ft2 for a 150ft2 area



98-99% for 2D and 3D measurements, dependant upon shape, for example +/- 1½ inch in each dimension for a 12ft x 12ft room
What's the maximum range?
We recommend a maximum of 1000 ft for measurements with Moasure.
How can I try out Moasure ONE?
Moasure ONE is currently only available directly from our website. We offer a 30-Day Money Back Guarantee. Simply order the Moasure ONE online and in the unlikely event that you are not impressed, just get in touch to arrange a return and refund.
What is the difference between Moasure ONE and Moasure 3D?
Moasure ONE is a multi functional measuring tool, Moasure 3D is a subscription service that upgrades the Moasure ONE, enabling you to export measurement drawings.
What happens after the free trial of Moasure 3D?
You have the choice of signing up for a monthly subscription of the Moasure 3D Service. If you choose not to continue with a Moasure 3D subscription, you can still continue to use your Moasure ONE.
Just ask here  Still not sure, stay in touch and subscribe to our email newsletter below