Moasure ONE's Latest Features
Difficult measurements just became simple with Moasure's patented cutting-edge technology. Save time, money, and hassle with this first-of-its-kind device that draws & measures simultaneously and fits right in the palm of your hand.
Automatically measure and draw irregular perimeters & complex areas

NEW

Rapidly generate accurate 3D Terrain map of any space

NEW

Visualize your measurements with contours & calculate true surface area

NEW

Visualize a 3D surface map and accurately calculate volume

NEW

Cut & Fill volume calculator for site leveling

Easily export & share data directly from the app

No hidden costs or monthly fee
Difficult measuring made easy
Measuring complex shapes with traditional tools has so much potential for error. Thanks to its patented technology, Moasure makes measuring the difficult, simple.
Measure & Draw Simultaneously

Review drawings on your smartphone or tablet

Calculate Area, Elevation & More

Automatically calculate the area, perimeters and elevation change of complex shapes

Save Time, Boost Profits

Rapidly measure complex and irregular shapes and spaces

Export to CAD

Export measurement data direct to PDF, Image, CSV or DXF to design software including AutoCAD
About the New Moasure ONE Features
3D Terrain Mapping & Topography
Moasure ONE enables you to rapidly capture a 3D terrain map of your site and instantly visualize it using the new contour view. 
Capture a perimeter and then simply collect elevation points at gradient changes or in a grid pattern. Moasure PRO automatically calculates contour lines, allowing you to visualize the site topography.
Calculate true surface area
Switch from a 2D contour view to a 3D terrain map and instantly see the 3D surface area, taking the guesswork out of ordering the correct amount of surfacing material.
Site leveling with Cut & Fill
Having captured the 3D terrain map of the site, simply select the Cut and Fill tool and use the level slider to instantly calculate and visualize your material requirements.
The built-in tool calculates the cut and fill volumes required to level a site to your desired elevation. The net volume tool shows the amount of material that needs to be brought on or taken off site. 
A simple tap on the 'zero net volume' button displays the required elevation level to eliminate the need to move material on or off site.
Fixed Depth Volume Calculator
Calculate volumes more accurately allowing you to save on materials and quote more competitively.
The 'Add Depth' tool is specifically designed for calculating the volume of a material, such as mulch or aggregate, based on your measured surface area and desired depth of coverage.
At last, you can calculate accurate volumes of level, undulating or sloping sites.
Measure stockpiles more accurately
Simply capture the 3D surface map of the pile and the volume is calculated automatically.
Firstly, measure the stockpile's perimeter, followed by capturing elevation points across the surface of the stockpile. The 3D surface map and volume are instantly calculated.
See How 3D Terrain Mapping & Volume Works
Learn more about how our latest features work.
Trusted by Professionals
"Ordered this to measure driveways & other hard to measure areas. The old way of a measuring wheel and manually calculating the areas is inefficient. This device saved me countless hours in the first week of using it"
Jared Hislop
Asphalt Paving
"I used to measure my quantities using a measuring wheel. I would always be over or under materials amounts. This would cost me up to $5000 per job. Moasure allowed me to dial my quantities down to the exact amount. Now I'm making up to $5,000 extra in profit a job"
Cliff Paul
Landscaper
"Moasure Saved my Business! This is the perfect piece of equipment for your Landscaping or construction business. It has helped me make and save a ton of money on properly measuring jobs. Since the purchase I have used it hundreds of times"
Daniel Georgescu
Landscaper
How Moasure works
It really is rocket science.
Moasure uses the same technology that is used in rocket guidance systems to keep track of the rocket's movement in space.
Moasure is completely self contained - it doesn't rely on GPS, lasers or an internet signal to measure. Instead, Moasure uses inertial motion sensors - accelerometers and gyros - to measure its own movement. As the user moves the Moasure module, it calculates how far it is being moved and in which direction it is moving; it does this hundreds of times each second.
Moasure works equally well in bright sunshine or complete darkness - it'll work underground in a cave, if that's where you want to measure!
Learn more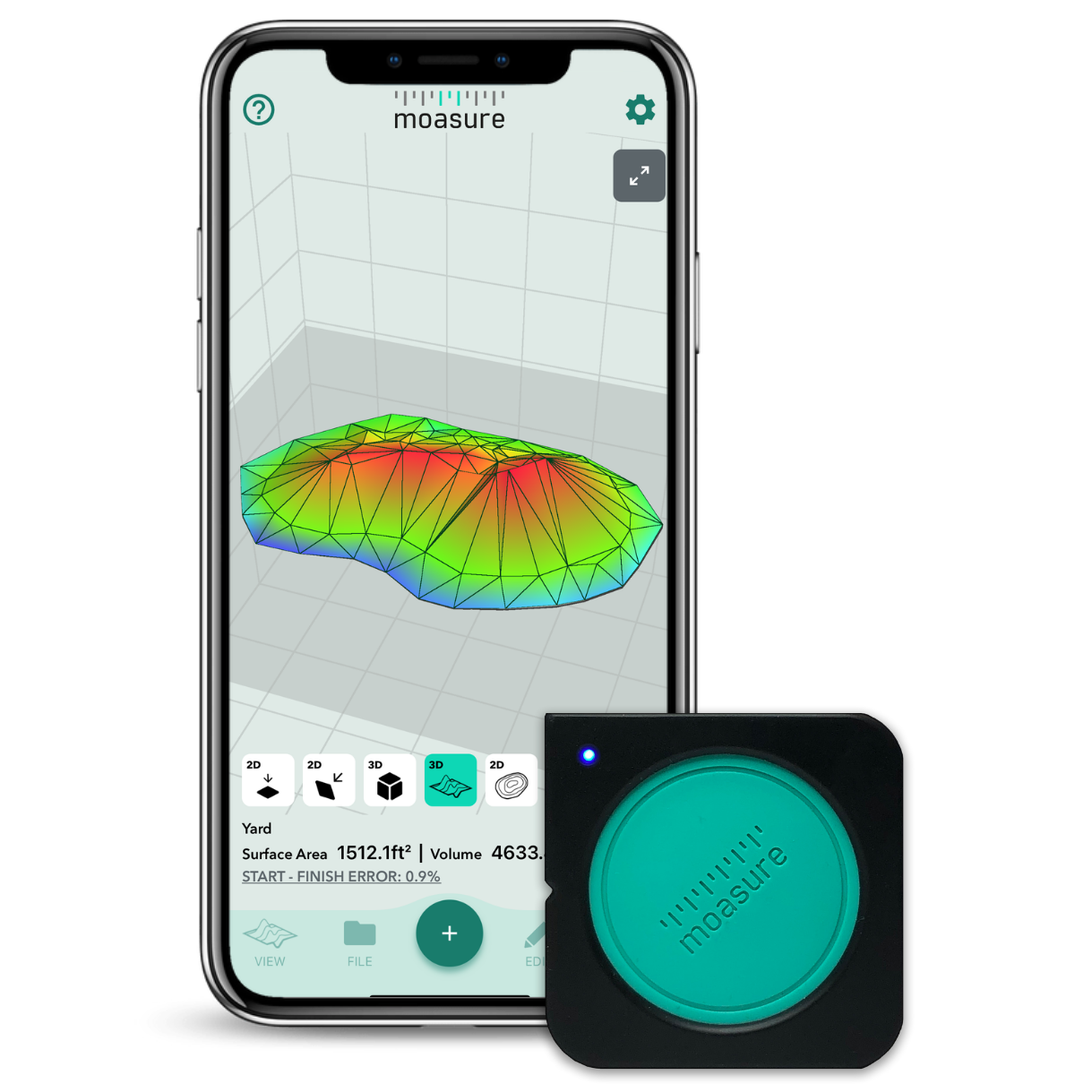 A measuring tool like no other
Save time, money, and hassle with this first-of-its-kind device that draws & measures simultaneously and fits right in the palm of your hand.