Upgrade your Moasure Experience with Moasure Export
Moasure Export is an enhancement to Moasure ONE, allowing you to export your measurement drawings as:
Fully Dimensioned Drawings Ready to Share
• Complete more jobs per day.
• Save hours of time measuring up.
• Files are ready, instantly for you to save or share.

Introductory Price

$9.99 per month

30 Day Free Trial

No Annual Commitment - Cancel Anytime

Start Your Free Trial In App Now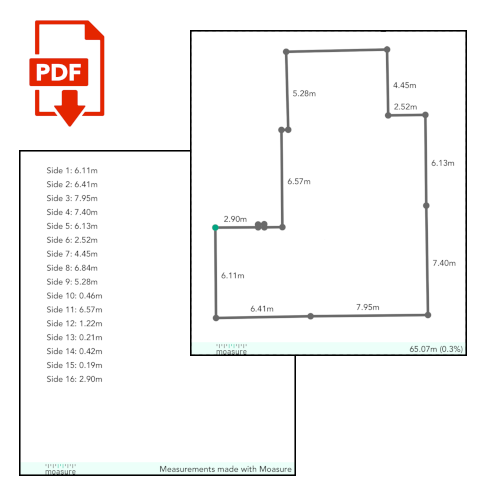 PDF files are created as two or more pages; the first page is the drawing including dimensions, the second page lists the dimension of each side.

Available in both 2D Draw and 3D Draw modes.

Download an example PDF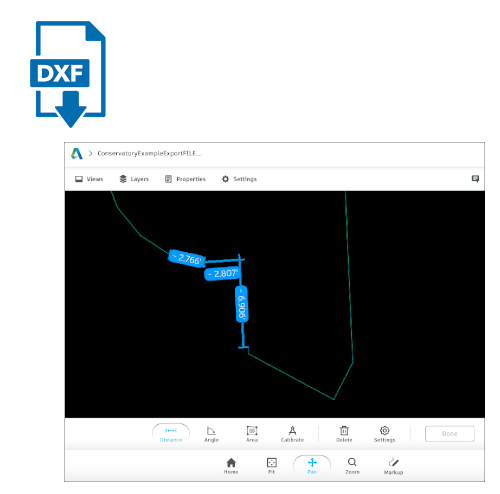 Export 2D or 3D DXF files, which can be opened in all popular CAD applications. e.g AutoCAD, SketchUp, Chief Architect etc.)

2D DXF is available in 2D Draw;
2D DXF and 3D DXF are available in 3D Draw.

Download an example DXF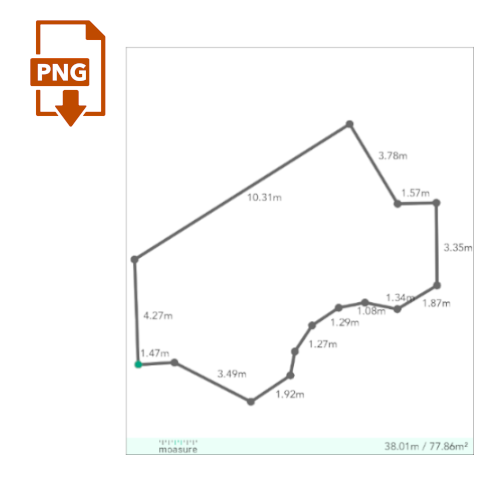 Export a PNG image file ready to share. The PNG file shows a sketch including dimensions, total perimeter and area*.
For detailed measurements, where the dimensions are overlapping, we would recommend using the PDF export option.

Download an example PNG

* Area is only shown when using 2D Draw mode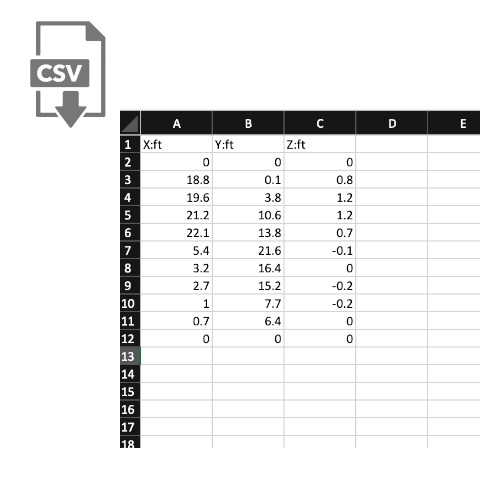 Export coordinate data as a CSV file. CSV files can be used for many CAD applications. The CSV file displays the X, Y and Z values.

Download an example CSV



Can I try out Moasure Export before I subscribe?
Yes, all Moasure ONE customers - get a free 30 day trial of Moasure Export. To activate this, please export a file in 2D Draw or 3D Draw and you will be notified to start your 30 day trial.


What happens after the free trial of Moasure Export?
You have the choice of signing up for a monthly subscription of the Moasure Export Service. If you choose not to continue with a Moasure Export subscription, you can still continue to use your Moasure ONE and view your measurements in App.
What about the Moasure 3D subscription?

All existing Moasure 3D subscribers have been automatically transitioned to Moasure Export


I want to export into a bespoke application I use in my company and the current files types are not support?
Get in touch with us, we have a partner integration options via our API