Getting Started with Moasure 3D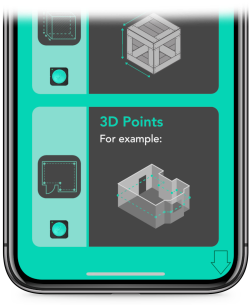 3D POINTS

Scroll to the bottom of the measuring modes page to find "3D-Points" measuring mode. *
---
How to measure a floor plan outline with "3D Points" measuring mode.
Review the room before measuring. Understand where you are going to pause and also where exactly you want the measuring reference point to be placed.

Once a measurement is complete it will automatically have the file (.DXF or CSV) ready to share on your phone.
Make sure you pause along longer walls and ensure you place the Moasure ONE in the exact same place you started to ensure an accurate outline is produced.
---
Settings

"3D Data Options" is available in the settings menu.
Auto-Join Start/Finish Points:
Activate this setting will correct your outline to ensure your first and last measuring point align. Great for when measuring rooms or property outlines.


DXF or CSV:
Select your preferred output file choice.

---
* If you can't see the "3D Points" measuring mode, please ensure you have the latest version of the Moasure App from the app store.
Please follow these steps:

1) Go to SETTINGS > MOASURE ACCOUNT
2) Select "Login to a different account" under your name and email address
3) Log in again with your email address and password
This will refresh your login and activate your 3D Points measuring mode.